Info:
Title:
CUBE -
Code:
P8H4ST
Contest:
PFFF / 2012
By:
E. Calanca
Views:
2280
Likes:
0
Votes:
ITALO ROTA
0
BENJAMIN BALL
1
MARCO CANEVACCI
3
VANESSA TODARO
6
ANDREA BARTOLI
1
4.4
CUBE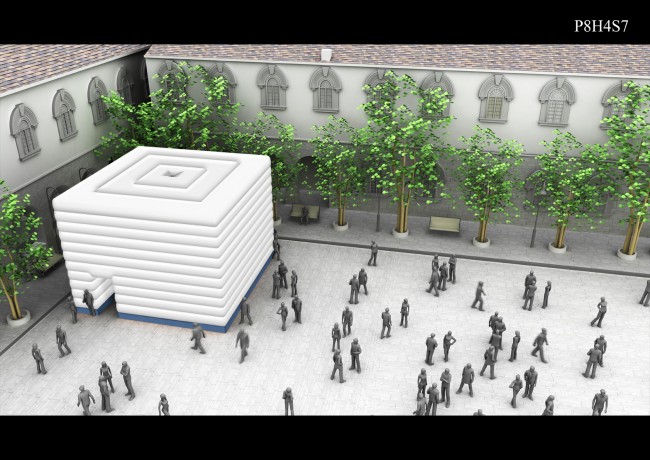 This project proceeds from the underling idea of an essential shape, such as a cube, which can on its inside host many different events, protecting them from outside activities. Two out of alignment openings allow the access to the pavilion and convoy the stream of visitors along the diagonal line, inviting them to go on through the inside space. The two horizontal lines of the bladders (air chambers) draw both inner and outer elevations of the inflatable pavilion, reaching the central gap of the cover.
The inflatable pavilion's colour is white. On the inside, this colour allows an optimization of the natural light's reflection and that of any other light sources, while on the outside it lets the pavilion colour itself with the surrounding natural light changing its tones in connection with the different day hours and with weather conditions.
Interior temperature can be regulated through the circular opening of the cover: during summer the gap allows warm air to rise up and to come outside, so that the inside is continuously ventilated. On the contrary during winter it will be possible to close the gap on the cover by inflating a helium balloon. This closure could be partial or total depending on the interior temperature desired.
The external pavilion structure is made of a PVC Waterproof membrane with double-needle stitches.
The anchorage is made up of PVC cases refillable with water; the reinforced punctures on the cases allow the fixing of the pavilion metal rings, through the use of some simple metal screws. The choice of such a kind of anchorage system is connected to the easiness of assembling and disassembling it and to the facility of transporting the support (an empty PVC case is much less heavy than a block of cement) as well as to the best aesthetical performance. The openings could be also closed with the use of two inflatable or deflatable doors which prevent "unwelcome visitors" from entering.
Info:
Title:
CUBE
Time:
25 gennaio 2012
Category:
PFFF
Views:
2280
Likes:
0
Tags:
-