Info:
Title:
Lagoon Park -
Code:
X7J5L1
Contest:
Venice / 2011
By:
Plan B Architecture + Urbanism
Views:
6189
Likes:
0
Votes:
BJARKE INGELS
13
NERI OXMAN
7
ELENA MANFERDINI
5
MARIA LUDOVICA TRAMONTIN
5
BOSTJAN VUGA
4
6.8
Lagoon Park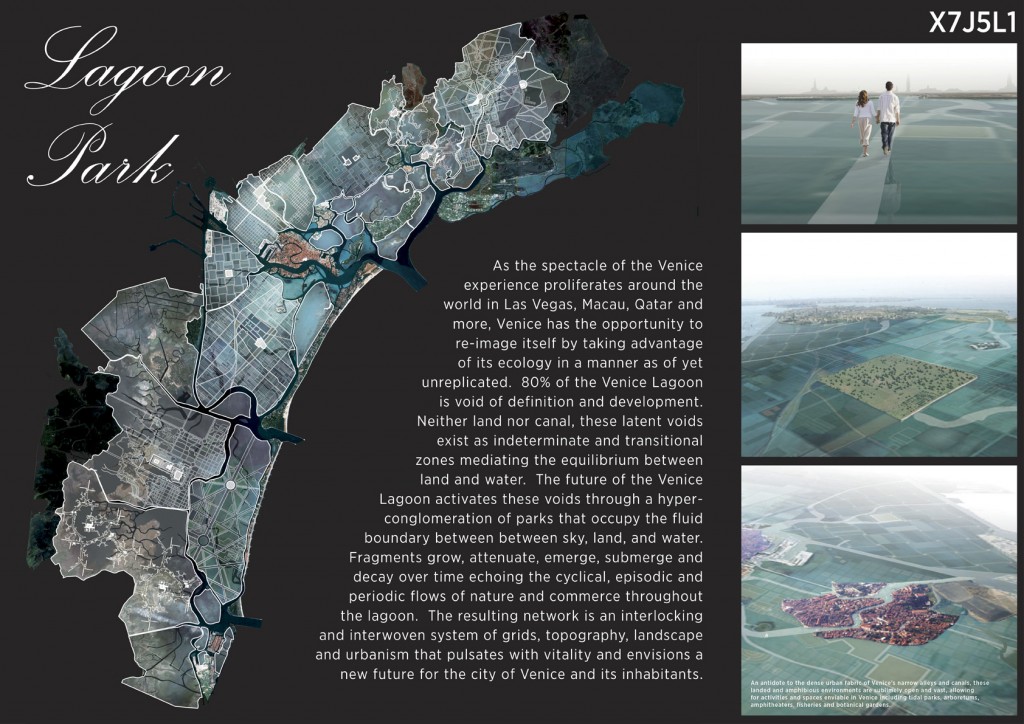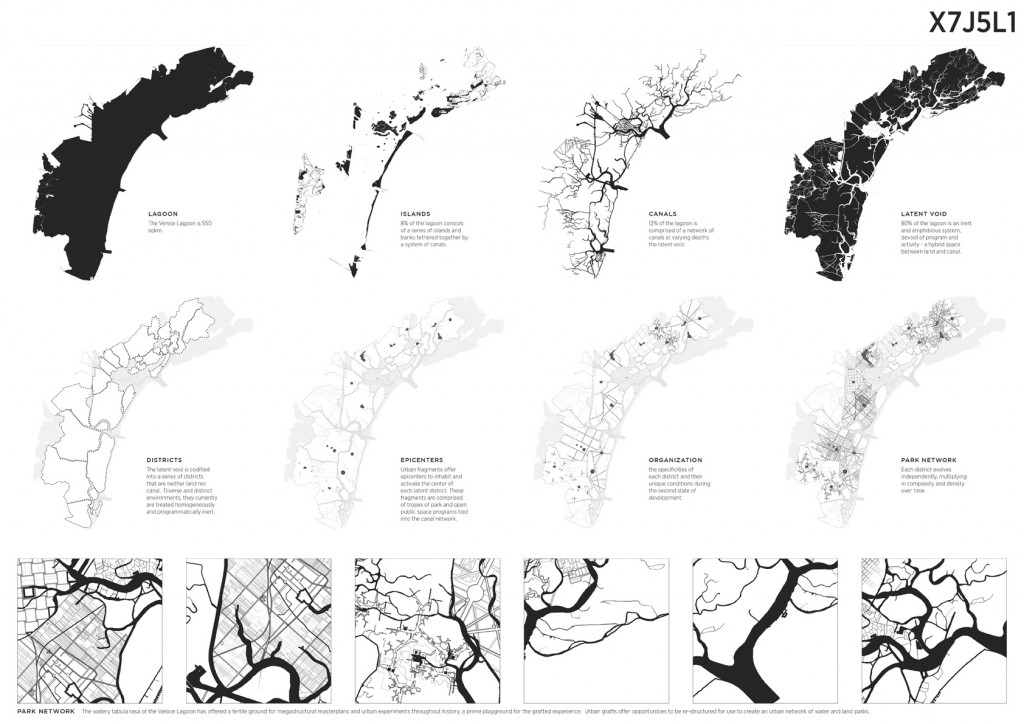 LAGOON PARK
1. From City to Lagoon
Lagoon Park positions Venice within the larger context of the Venetian Lagoon.  While 20% of the 550 square kilometer lagoon consists of islands and canals, 80% is void of definition and development.  Neither land nor canal, this void exists as an indeterminate and transitional zone that mediates the equilibrium between land and water.  Devoid of program and activity, this amphibious ecological system is latent with possibility to reinvigorate and resuscitate the identity of Venice.  The future of the city lies not at its dense and saturated center, but within its vast and open periphery.
2. Activating the Lagoon
The spaces between the network of canals create a series of distinct regions of unregulated water.  These 'canal districts' offer a tabula rasa for planning opportunities and provides new sites for intervention.  This project envisions each district being activated by a fragment of urban program generated by strategies of land-fill and reclamation.  As epicenters for development that re-territorialize the lagoon, these fragments instigate an internal water based organizational system that is calibrated to the delicate equilibrium of the lagoon's distinct and vibrant ecologies.
3. Amphibious Parks
The future of Venice's Lagoon is envisioned as a hyper-conglomeration of hydrological activities and programs that regenerate their surrounding areas.  An antidote to the dense urban fabric of Venice's narrow alleys and canals, the urbanism of the Lagoon offers sublimely open and vast landed and amphibious environments, including tidal parks, arboretums, amphitheaters, fisheries, botanical gardens and ecological preserves.
Rather than a homogenous urban plan that strives for contrived unity,  Lagoon Park outlines a framework for activating the lagoon as a diverse system of parks that would be implemented over a series of phases by multiple designers.  The crisis of the city's identity is not denied but re-doubled as each district evolves independently, multiplying in complexity and density over time.  As each district grows, attenuates, emerges, submerges and decays over time, it echoes the cyclical, episodic and periodic flows of commerce and ecology throughout the lagoon and its history.
Info:
Title:
Lagoon Park
Time:
6 giugno 2011
Category:
Venice
Views:
6189
Likes:
0
Tags:
Plan B Architecture , Urbanism