Info:
Title:
VENICE – A FOREST OF DESIRE -
Code:
X7U3W1
Contest:
Venice / 2011
By:
Y. Wang
Views:
2292
Likes:
0
Votes:
BJARKE INGELS
6
NERI OXMAN
7
ELENA MANFERDINI
5
MARIA LUDOVICA TRAMONTIN
4
BOSTJAN VUGA
4
5.2
VENICE – A FOREST OF DESIRE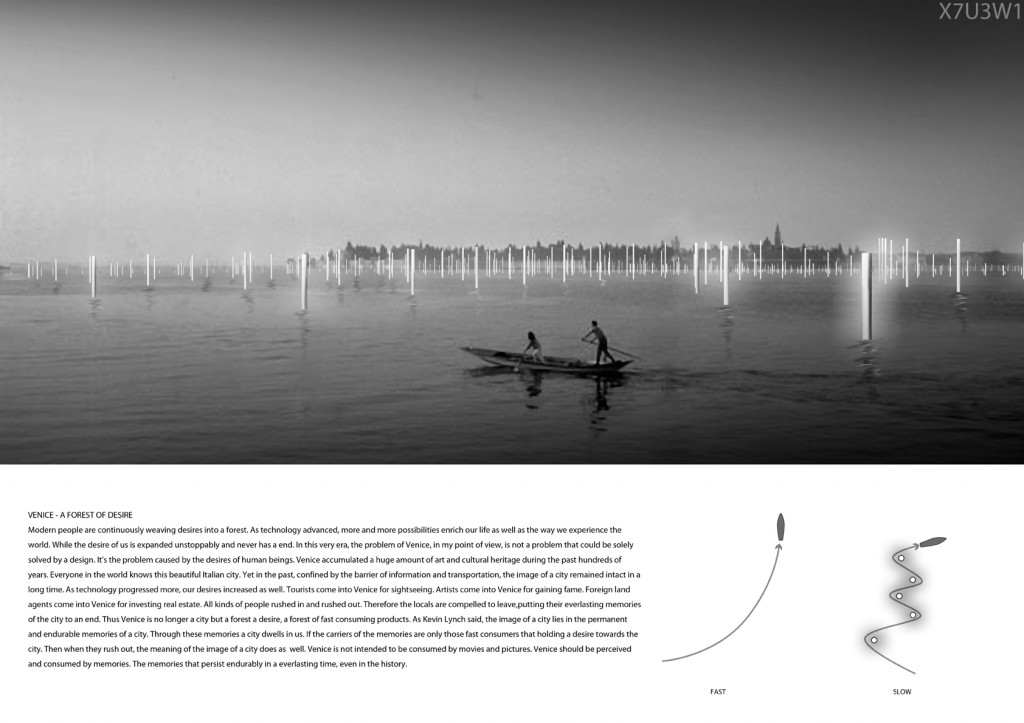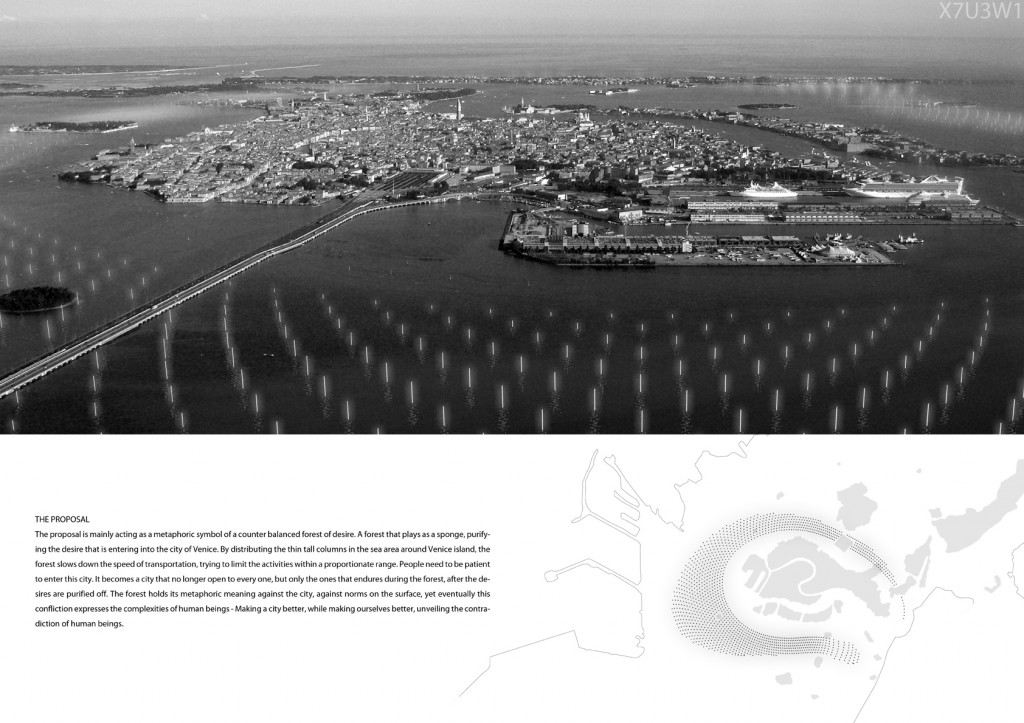 VENICE – A FOREST OF DESIRE Modern people are continuously weaving desires into a forest. As technology advanced, more and more possibilities enrich our life as well as the way we experience the world. While the desire of us is expanded unstoppably and never has a end. In this very era, the problem of Venice, in my point of view, is not a problem that could be solely solved by a design. It's the problem caused by the desires of human beings. Venice accumulated a huge amount of art and cultural heritage during the past hundreds of years. Everyone in the world knows this beautiful Italian city. Yet in the past, confined by the barrier of information and transportation, the image of a city remained intact in a long time. As technology progressed more, our desires increased as well. Tourists come into Venice for sightseeing. Artists come into Venice for gaining fame.
Foreign land agents come into Venice for investing real estate. All kinds of people rushed in and rushed out. Therefore the locals are compelled to leave, putting their everlasting memories of the city to an end. Thus Venice is no longer a city but a forest a desire, a forest of fast consuming products. As Kevin Lynch said, the image of a city lies in the permanent and endurable memories of a city. Through these memories a city dwells in us. If the carriers of the memories are only those fast consumers that are holding a desire towards the city, then when they rush out, the meaning of the image of a city does as well. Venice is not intended to be consumed by movies and pictures. Venice should be perceived and consumed by memories. The memories that persist endurably in an everlasting time, even in the history.
THE PROPOSAL The proposal is mainly acting as a metaphoric symbol of a counter balanced forest of desire. A forest that plays as a sponge, purifying the desire that is entering into the city of Venice. By distributing the thin tall columns in the sea area around Venice Island, the forest slows down the speed of transportation, trying to limit the activities within a proportionate range. People need to be patient to enter this city. It becomes a city that no longer opens to everyone, but only the ones that endures during the forest, after the desires are purified off. The forest holds its metaphoric meaning against the city, against norms on the surface, yet eventually this confliction expresses the complexities of human beings – Making a city better, while making ourselves better, unveiling the contradiction of human beings.
Info:
Title:
VENICE – A FOREST OF DESIRE
Time:
6 giugno 2011
Category:
Venice
Views:
2292
Likes:
0
Tags:
Kyoung-Ho / G. Baldanchoijil , Y. Wang