Info:
Title:
HEPTAPUSS -
Code:
H6F3A8
Contest:
PFFF / 2012
By:
PFFF SPECIAL MENTION // C. Campos, Y. Z. Aiub
Views:
3193
Likes:
0
Votes:
ITALO ROTA
2
BENJAMIN BALL
7
MARCO CANEVACCI
8
VANESSA TODARO
8
ANDREA BARTOLI
1
5.2
HEPTAPUSS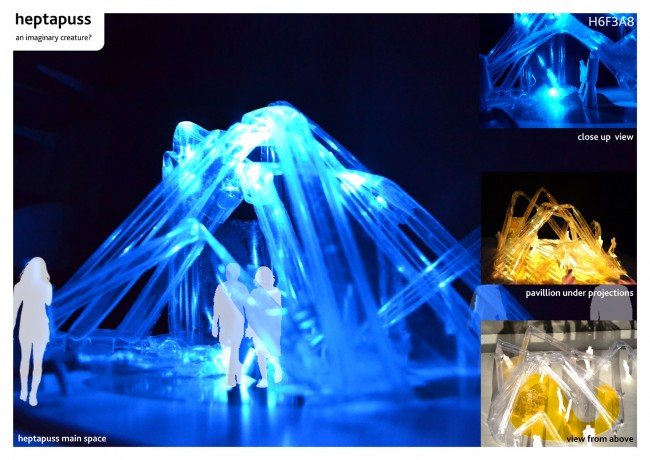 Heptapuss An Imaginary Creature?
Heptapuss is a versatile, changing, flexible, fun, easy to install and interactive organism.?Heptapuss can hold and show on its skin projections, texts, images, objects, lighting.?Heptapuss has seven inflatable cylindrical columns, build in two different lengths.
Flexibility: Heptapuss components can acquire the most varied arrangements, according to the needs of each event. Used at its maximum performance, it is able to cover an area of 50 square meters, providing projection panels and also a comfortable seat for the public to enjoy lectures.
In smaller versions in height or covered area, one can easily accommodate Heptapuss into a palace´s hall, a train station, the lobby of a hotel or a museum, and even outdoor locations like a park or a beach.
Heptapuss inflates from each of his extremities, so as to achieve full autonomy of each of its organs. The tips contain pockets to locate within sandbags and water, and handles to be fixed to the floor eventually.
Connectivity: Several pairs of ZIP closures surround Heptapuss components. This provides the body with a very convenient connectivity, allowing for different assembly types and profiles, and giving unity to the structure, so it becomes more solid.
Lighting: The Eyes of Heptapuss are LED lights located in different parts of the inflatable structure, in the seven arms as in the lower bench.
Skin and Membranes: Heptapuss is webbed. Two webs between their fingers allow the installation of brochures, information, posters, projection or allow for an interview or photographs with the guests. ?The inflatable bench: Pattern generated by the lining multihexagonal Heptapuss skin, this bank is an opportunity for interaction and relax.??Heptapuss can be attached to ground through fixing handles, or simply rely on the tips of his fingers filled with pockets of sand and water. In this case, Heptapuss can even walk, moving with the help of a few people. It could actually move from one sector to another in a fair, an exhibition or a temporary shows.
Info:
Title:
HEPTAPUSS
Time:
25 gennaio 2012
Category:
PFFF
Views:
3193
Likes:
0
Tags:
Business , C. Campos , Construction and Maintenance , Electrical , Inflatable , Lighting , Materials and Supplies , Shopping , Skin , Y. Z. Aiub